---
The Film and Television Institute of India, a full member of CILECT, the international association of cinema, audiovisual and media schools signed Memorandum of Understanding with eight film schools at San Sebastian, Spain during the CILECT World Congress 2022 held on 10-13 October. The Congress was on the theme of Teaching Audiovisual Media. Challenges & Chances this year.
The two member FTII delegation consisted of Prof Sandeep Shahare, the Director and Assoc. Prof. Harish K M, Head of the Department, Sound. FTII was keen on building partnerships with reputed film schools from all over the world to enhance knowledge sharing and exchange of students and faculty.
Three of the agreements, i.e. MoUs with Griffith University, Australia, Internationale Filmschule (IFS) Koln, Germany and École Nationale Supérieure des Métiers de l'Image et du Son (La Fémis), France is renewal of existing commitments post the COVID-19 pandemic.    
The other MoUs are with a. Faculty of Dramatic Arts, (FDU), Serbia, b. National Academy of Theatre and Film Arts (NATFA), Bulgaria, c. Escuela De Cine Y Video (ESCiVi), Spain, d. Institut National Supérieur des Arts du Spectacle et des techniques de diffusion (INSAS), Belgium and e. Australian Film Television and Radio School, (AFTRS) Australia.
As a part of an existing MoU, 8 FTII students are currently at Filmakademie Baden-Wuerttemberg (FABW), Germany. 12 students of FABW were trained at FTII in September this year. 
The partnerships with film and television schools will help students of FTII to have a deeper insight in filmmaking, understanding of different styles of craft, exposure to new technology and also general understanding of filmmaking in other parts of the world.
The International Association of Film and Television Schools (Centre International de Liaison des Ecoles de Cinéma et de Télévision – CILECT) was founded in  France in 1954. CILECT includes over 180 audio-visual educational institutions from 65 countries on 6 continents with 9,000+ teachers and staff that annually train 55,000+ students and communicate with an alumni network over 1,330,000+ strong.
MoU with Belgium Film School INSAS
MoU with Australian Film Television and Radio School
Presenting Being FTII to Prof. Dr. Stansilav Semerdijev, Executive Director, CILECT
MoU with IFS Koln
MoU with La Femis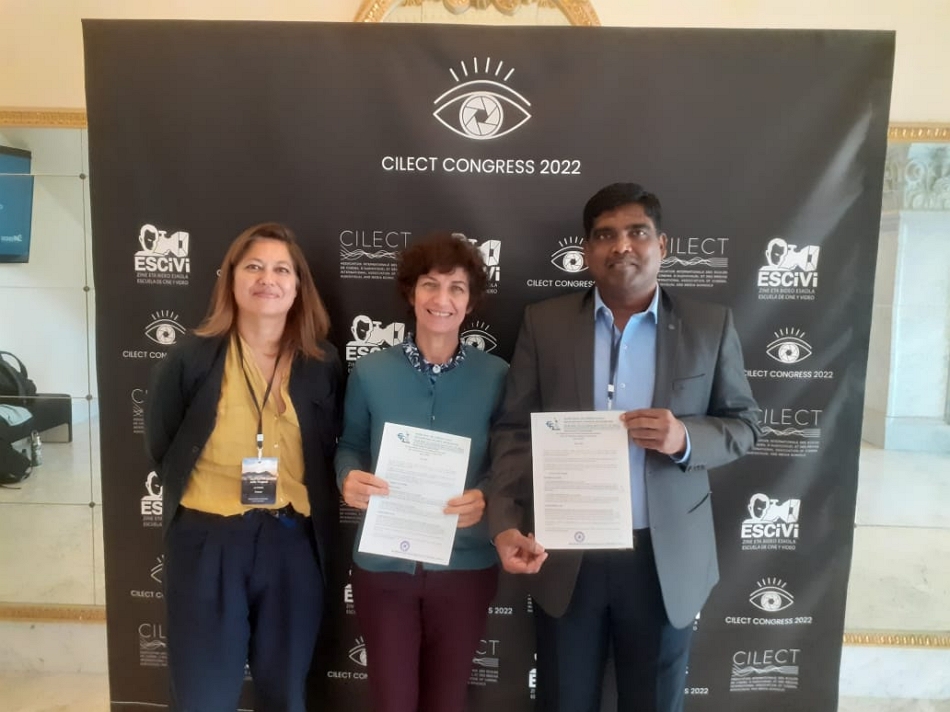 Prof. Sandeep Shahare, Director FTII at Cilect Congress 2022