---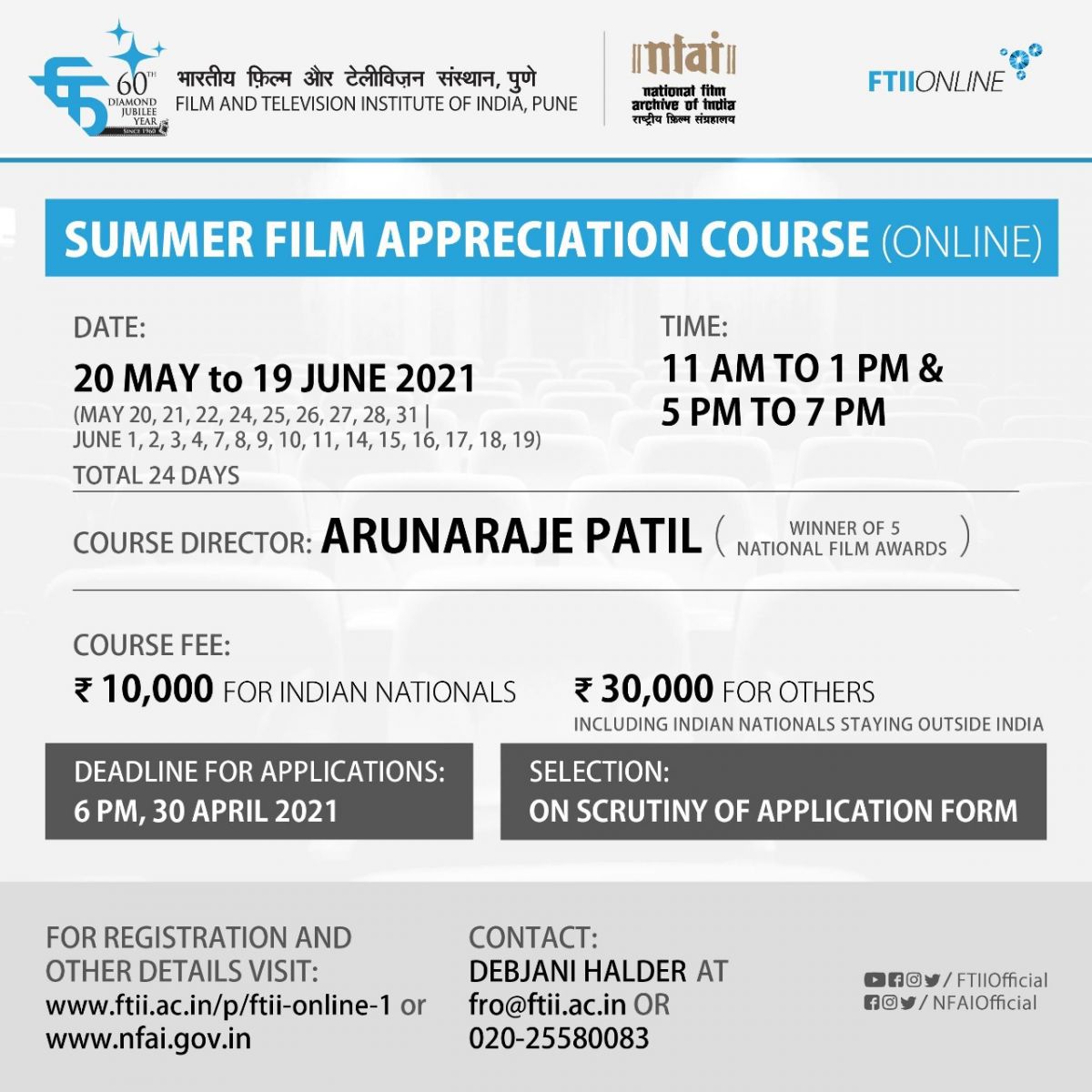 SUMMER COURSE IN FILM APPRECIATION (Online)
(20th May to 19th June 2021)
      
 A four-week (24 days) full-time course in FILM APPRECIATION will be held Online from 20th May to 19th June 2021 (excluding Saturdays & Sundays except 22nd May 2021) under the joint auspices of Film & Television Institute of India and National Film Archive of India. This is an intensive course designed to promote comprehensive understanding and insights into the nature of cinema and other related forms and practices.
 
The contours of the Course will broadly be as under: -
•    Exposure to world classics that changed how films are made and seen over the years.
•    How tools of filmmaking are used to tell stories or to express the art of a filmmaker as an auteur.
•    Going beyond the said and listening to the unsaid to unconceal the layers of the narratives in the different genres.
•    Insights and new perspectives of life through the films seen, that reveal the spectrum of human behavior through an intellectual or emotional journey.
•    Discovering new aspects of communication through the sub text underlying the narratives of films specially curated for the Course.
•    Discussion on gender sensitive issues and the way the women are perceived in society and portrayed in cinema
.  
*Applicants may please note this is not a film production or a scriptwriting course. The emphasis is completely on understanding and appreciation, and there are no practice-based inputs included in the syllabus. *
*The medium of instruction would be mainly English*.
 
*The course will be conducted by Ms. ArunarajePatil,*
She is critically acclaimed Filmmaker, (SHAQUE, GEHRAYEE, SITUM, RIHAHEE, TUM, BHAIRAVI, KEH DO NA).
•    Writer, Director,Editor, Producer and winner of Five National Film Awards.
•    Her recent film :FIREBRAND produced by Priyanka Chopra was released on NETFLIX as an original.
•    Actively involed in film education, served on Juries, including National Film Awards.
•    Renowned Life Coach, Motivational Speaker. Has led transformational programmes for more than 10,000 people.
•    Her autobiography FREEDOM - MY STORY published by Harper Collins was released in 2017.

Application Fee:-
*Application fee of Rs.800/- (Rupees Eight Hundred only) for Indian Citizens and Rs 2400/- (Rupees Two Thousand Four Hundred only)  for Others (Including Indian Nationals staying outside India)should be transferred online on FTII Account through SBI Payment Portal at https://www.onlinesbi.com/sbicollect/icollecthome.html
Application fee is non-refundable.*


Course Fee:-

*The fees will be Rs. 10,000/- (including 18% GST) for Indian Citizens and Rs. 30,000/- for Others (Including Indian Nationals staying outside India). Those who are selected after scrutiny of their application forms should transfer the fee online on FTII Account through SBI Payment Portal at https://www.onlinesbi.com/sbicollect/icollecthome.htm Course fee is non-refundable, non-transferable, non-adjustable etc. irrespective of the circumstances.*


*Since the course is based on Audio – Visual medium where films will be screened, the respective visual & hearing disability of a differently abled (Divyang) person should not be more than 60%. *

Terms and Conditions: -
1.    The applicant should have completed 18 years of age as on 16th April Friday-2021*
 
2.    Google Form without receiving necessary application fee will not be considered.
 
3.    Certificates: Participants would be given e-certificates on successful completion of the course subject to 90% attendance.
4.    Max. no. of participants: 70 (Course may not be conducted if there are less than 56 selected participants)
5.     Selection Criteria: On the basis of information stated in the Google form
6.     List of selected candidates will be published on FTII and NFAI websites. Emails will be sent to them.
7.     Online platform: The course will be conducted on "Google Classroom" and participants are requested to get familiarized with the same. Steps to join online class including login id & password will be shared with each selected participant in the selection email.
8.     Computer literacy: It is the participant's responsibility to be technologically capable to take an online course.
9.    Educational Qualification: Graduation. In exceptional cases, HSC (12th std.) pass candidates may be considered.
 
10.    Use of Mobile Phone (in place of Laptop or Desktop Computer) to attend the classes is strictly prohibited. Such participants will not be allowed to join the classes.

11.    By agreeing to the terms & conditions in the application form and by paying course fee, participants are confirming that they have read & understood the website advt. They are eligible to apply and fulfil all the requirements as stated in the advt. Further, participants agree that decision of FTII Director regarding admission to the course and its conduction will be final. Further to add in this, it is expected of the participants that during the class they must mute their mics but keep their cameras on unless otherwise instructed. Keeping camera off throughout the class or not heeding to instructions to switch on the camera will be seen as an act of indiscipline and may lead to expulsion from the Course and forfeiture of the Course fee. Decision of Director, FTII and Director NFAI regarding conducting the course in all respects will be final.
MANDATORY REQUIREMENT: Since the course is online, participants must have following facilities: -

i)     A Desktop / Laptop having minimum 8 GB RAM, 1.6 GHz or better processor (Intel i3 or i5 or better).  (Windows / MAC)
ii)    (Operating system: a) Windows 7 or 8 or 10. b) MAC OS Sierra or later
iii)    Audio – Video software: Latest versions of VLC player, Windows Media Player or Quick Time Player.
iv)    Compatible good quality headphones/ earphones with mic
v)     Compatible HD webcam
vi)     Internet pack of minimum 6 GB per day exclusively for this course. It is recommended to have fixed wired Internet connection with minimum speed of 10 Mbps or more.
vii)     Web browser: Latest version of Google Chrome (Preferred), Firefox, Internet Explorer, Safari.


Payment Procedure: -

1. Click open the link - https://www.onlinesbi.com/sbicollect/icollecthome.htm
2. Select All India in State of Corporate / Institution, then select Educational Institutions in Type of Corporate / Institution and click Go.
3. Search/Find FTII Fees Account in Educational institutions name and click submit.
4. Select Application Form Fee for FAC 2021 in Select Payment Category.
5. Fill up the payment form with requisite details and proceed for payment.

N.B.–   How to apply: -
 
*It is a two stepprocess.*
 
Step I: Payment of application fee (Rs 800/- OR Rs 2,400/- as the case may be) and
 
Step II: Submission of Google form Click here for Apply
*Online google form is available on the website: https://www.ftii.ac.in https://www.nfaipune.gov.in
*The applicant must upload self-attested credentials, wherever asked for.
*Application fee without Google Form will not be considered.

Important Date
Deadline for Receiving Online Application: 30th April 2021, 6 PM
 
For any queries, please Contact
Ms. Debjani Halder, Ph.D.
Designation:-Film Research Officer (FRO)
FTII, Pune
Contact:- Tel: 020-2558 0083
Contact Timing: - Monday to Friday. 11AM to 5.30 PM.
Email Query Subject Line: Summer Film Appreciation Course (Online)
Email: fro@ftii.ac.in
Click here to Apply (Google Form)