---
List of Selected Participants Weekend Online Foundation Course in Screenplay Writing from 29th Jan. to 03rd April 2022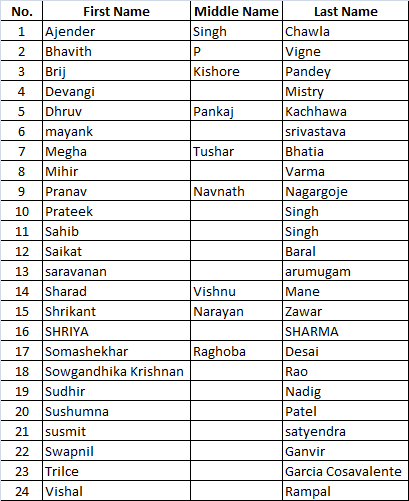 Weekend Online Foundation Course in Screenplay Writing from 29th Jan. to 03rd April 2022

Film and Television Institute of India (FTII), Pune, under Centre For Open Learning (CFOL) and Vijay Tendulkar Writers' Academy (VTWA), announces Weekend Online Foundation Course in Screenplay Writing.

Following are the details in this regard;

(1)    Name of the Weekend Course: Foundation Course in Screenplay Writing (Online).
(2)    Dates: 29th Jan. to 03rd April 2022 (Only on Saturdays & Sundays
(29-30 Jan., 05-06, 12-13, 19-20, 26-27 Feb., 5-6, 12-13,19-20, 26-27 March & 02-03 April 2022)
(3)    Timings: 11 am to 1 pm and 3 to 5 pm (Indian Standard Time – IST)
(4)    Max. no. of participants: 24
(5)    No. of seats available: 20 (04 seats already reserved for the applicants of previous batch)
(Course will be conducted only if minimum strength of in-total 20 participants is reached)
(6)    Age:18 years & above as on 01st Jan. 2022 (participants born on or before 31st Dec. 2003)
(7)    Educational Qualification: HSC (12th pass). In exceptional cases, 10th pass may be considered
(8)    Online Platform: Google Classroom & Google Meet platform
(9)    Medium of Instructions: English & Hindi
(10)  Per Participant Course fee:
(a)    For Indian Nationals: Rs 20,000/- (base fee = Rs 16,949/- and GST = Rs 3,051/-)
(b)    For Foreigners including NRI, OCI etc. and also those who are presently staying outside India: Rs 60,000/- (base fee = Rs 50,847/- and GST = Rs 9,153/-).
Course fee of selected participants will be non-refundable, non-transferrable, non-adjustable, etc. under any circumstances. Course fee of all the non – selected participants will be returned within 07 – 10 days of the course commencement.
(11)   Mode of payment: Online through SBI Collect (along with application form).
(12)   Due date & time to submit application: 11th Oct. 6 pm IST. Application submitted after due date & time will not be considered.
(13)   Selection Criteria: On First – Come – First – Served Basis.List of selected participants will be published on our website and selection emails will also be sent to all the selected participants.
(14)   Online platform: FTII will be using "Google Classroom" and participants are requested to get familiarized with the same. Steps to join online class including login id & password will be shared with each selected participant in the selection email.
(15)   Computer literacy: It is the participant's responsibility to be technologically capable to take an online course. Participants must be computer literate.
(16)  MANDATORY REQUIREMENT:

Since the course is online, participants must have following facilities;

(i) A Desktop / Laptop having minimum 4 GB RAM, 1.6 GHz or better processor (Intel i3 or i5 or better).  (Windows / MAC)
(ii) Operating system: a) Windows 7 or 8 or 10. b) MAC OS Sierra or later
(iii) Audio – Video software: Latest versions of VLC player, Windows Media Player or Quick Time Player.
(iv) Compatible good quality headphones/ earphones with mic
(v) Compatible HD webcam
(vi) Internet pack of minimum 5 GB per day exclusively for this course. It is recommended to have fixed wired Internet connection with minimum speed of 10 Mbps or more.
(vii) Web browser: Latest version of Google Chrome (Preferred), Firefox, Internet Explorer, Safari.

Use of Mobile Phone (in place of Laptop or Desktop Computer) to attend the classes is strictly prohibited. Such participants will not be allowed to join the classes.
 
(17)  Course Director: Samvartha Sahil

Samvartha 'Sahil' is a student of life based out of Manipal, who occasionally writes, teaches and translates for a living. An alumni of FTII and JNU, Samvartha has worked in the direction and screenplay departments with filmmakers Shri Prakash, Ananya Kasaravalli, PN Ramachandra, Anadi Athaley. Prior to his tryst with cinema he worked with The Hindu as a journalist, and with Manipal University as a teaching faculty. Recipient of Prabhash Joshi Media Fellowship and Karnataka Sahitya Akademi Travel Fellowship, he has three books published in Kannada and two more are in the pipeline, and has been a jury member for the Wular Lake International Film Festival and Karnataka Sahitya Akademi Book Awards.

(18)    How to apply:

1. Click open the link - https://www.onlinesbi.com/sbicollect/icollecthome.htm OR visit www.onlinesbi.com and further click on "SB Collect" which is at the top left, vertically 06th from left to right.
2. Read the "Terms Used", then tick/ click on the 'check box' and further click on "Proceed"
3. Select All India in State of Corporate / Institution, then select Educational Institutions in Type of Corporate/ Institution and click Go.
4. Search/Find FTII Fees Account in Educational institutions name and click submit.
5. In the payment category select "B7 Foundation Course in Screenplay Writing Weekend".
6. Fill-up the application form with requisite details and proceed for payment.
7. Make necessary payment of Rs 20,000/- OR Rs 60,000/- as the case may be.
8. Once payment is done, please note "SBcollect Reference Number" (mentioned in payment confirmation receipt). This may be required for future reference.  
9. If possible, digitally store the receipt of payment. This can be carried out in one of the following ways;
(i) by taking printout of receipt of payment, scan & save it
(ii) by taking screenshot of payment (if using mobile) or printscreen (if using computer)
(iii) by simply taking a photograph from mobile
(iv) check your bank account to confirm whether money (course fee) has been deducted or not
(v) After a day or two, once again check to see whether money (course fee) has been refunded.
(vi) In case of refund, it is a transaction failure and if so, once again apply for the course afresh.
10. No document/ certificate related to educational qualification, age etc. is to be attached.Participants' self – declaration in the application form is sufficient.
11. Terms & conditions: By agreeing to the terms & conditions in the application form, participants are confirming that they have read & understood the website advt. They are eligible to apply and fulfil all the requirements as stated in the advt. Further, participants agree that decision of FTII Director regarding admission to the course and its conduction will be final.
Further to add in this, it is expected of the participants that during the class they must mute their mics but keep their cameras on unless otherwise instructed. Keeping camera off throughout the class or not heeding to instructions to switch on the camera will be seen as an act of indiscipline and will lead to expulsion from the Course and forfeiture of the Course fee. Decision of FTII Director regarding conducting the course in all respects will be final.

(19)   Communication with participants: All communications with the participants will be carried out through email only. List of shortlisted participants may be published on FTII website and selection email will be sent to the selected participants on their registered email id.
(20)   Certificates: All participants would be given participation e-certificates on successful completion of the course. Minimum 90% attendance is mandatory.
(21)   Queries: For any queries please contact Ms Madhulika Outreach Officer, FTII, on outreach@ftii.ac.in OR on 020-25580085 (on all working days between 10 am to 5.30 pm)


Course Details
This foundation course, spread across two months period, intends to introduce the participants to the art of storytelling and the craft of film screenplay writing.
 
To begin with, this course will guide the participants to internalize the concepts of pattern, rhythm, and visual and auditory thinking. Elaborating on the history and basic principles of storytelling, the participants will be enabled to understand the bone structure of a narrative i.e. the promise and premise of a story. With rigorous writing exercises and film analysis, the participants will learn how to build characters, script spaces and weave them into a well – constructed plot in a three - act structure. Fleshing out scenes, writing dialogues for the scenes, and an insight into how to use songs as a part of the narrative will also be discussed and practiced in this course.
 
The course also desires to help the participants find their swabhaav and write stories and screenplays that are in tune with it. Believing that writing is more than just the physical act of writing, this course also focuses on the necessary riyaaz for writing, and to achieve this it takes an interdisciplinary approach.