---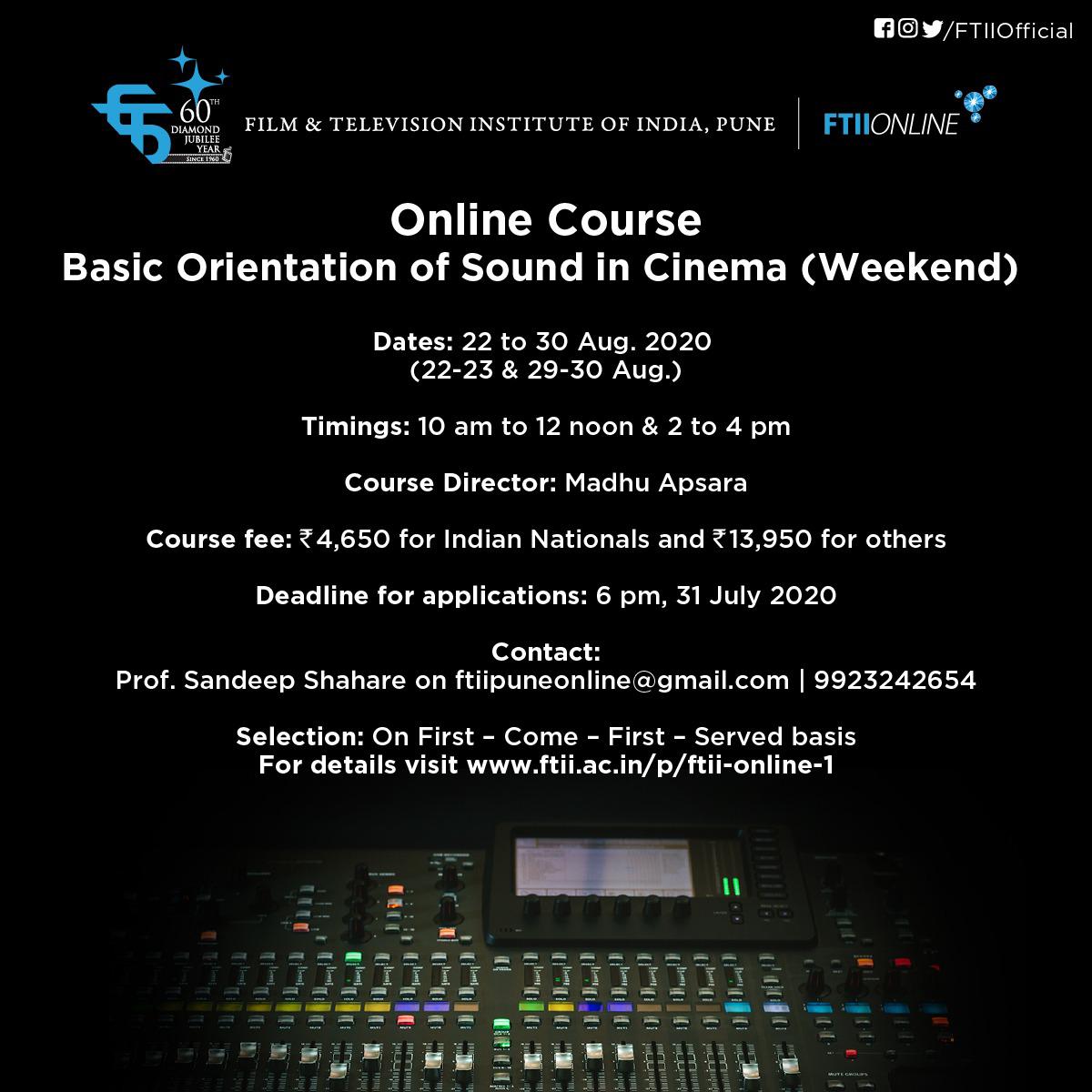 List of selected participants – Basic Orientation of Sound in Cinema (22nd to

30th Aug. 2020

)
| | | |
| --- | --- | --- |
| No. | First Name | Last Name |
| 1 | Abhishek | Kadam |
| 2 | Anchit | Pandey |
| 3 | ANIKET | DUTTA |
| 4 | Animesh | Patil |
| 5 | Arijit | Paul |
| 6 | ASWIN | P |
| 7 | ATUL | KUNDAL |
| 8 | Avinash | Madivada |
| 9 | BHUSHAN | KANKAL |
| 10 | CHETHALAN | JINESH |
| 11 | Gautham | A |
| 12 | GIRISH | SAREEN |
| 13 | Hemant | Joshi |
| 14 | INIYAN | D G |
| 15 | Ishuka | Sharma |
| 16 | Joseph | Thomas |
| 17 | Kapil | Reddy |
| 18 | Karan | Sharma |
| 19 | KISHOR | CHAUHAN |
| 20 | Kizhakoot | Nair |
| 21 | Krishnan | Viju |
| 22 | MANAS | MIDDEY |
| 23 | Manish | Poddar |
| 24 | NEELOTPAL | DAS |
| 25 | Neera | Jalchhatri |
| 26 | Ohviya | Raja Prakash |
| 27 | PANKAJ | AGRAWAL |
| 28 | Paramesh | AP |
| 29 | Partha Sarathi | Saha |
| 30 | Priyanka | Nagarkar |
| 31 | Raghu | Basarimarad |
| 32 | Rajbir | Khurana |
| 33 | RAJESH | SAINI |
| 34 | RAJSHEKHAR | BASAK |
| 35 | Rejoy | Pal |
| 36 | Sameer | Rane |
| 37 | SAMIKSHAN | JANA |
| 38 | Shailendra | Musale |
| 39 | Shreyash | Meshram |
| 40 | SOMSUBHRA | BHATTACHARYYA |
| 41 | SOUMAVA | MAITI |
| 42 | Sourabha | Shirgaonkar |
| 43 | Srihari | M S |
| 44 | SUBHASHISH | ROY |
| 45 | SUKRUT | HEROORKAR |
| 46 | Susruth | Chilakapati |
| 47 | Syam Krishnan | Sakthidharan |
| 48 | Vagmita | Swaroop |
| 49 | VARUN | JOHN |
| 50 | Yash | Chandanshive |
Selection emails will be sent to all the above stated selected participants before 14th Aug. 2020, 4 pm. Login id & password as required to join the course will also be shared in said email.
In-case any such email is not received before the above stated date & time, please email to ftiipuneonline@gmail.com
Google Classroom Training Session will be held on 16th Aug. 2020 at 4.00 pm for those participants who are unaware of using Google Classroom & Google Meet and who do not know how to submit assignments in Google Classroom.