---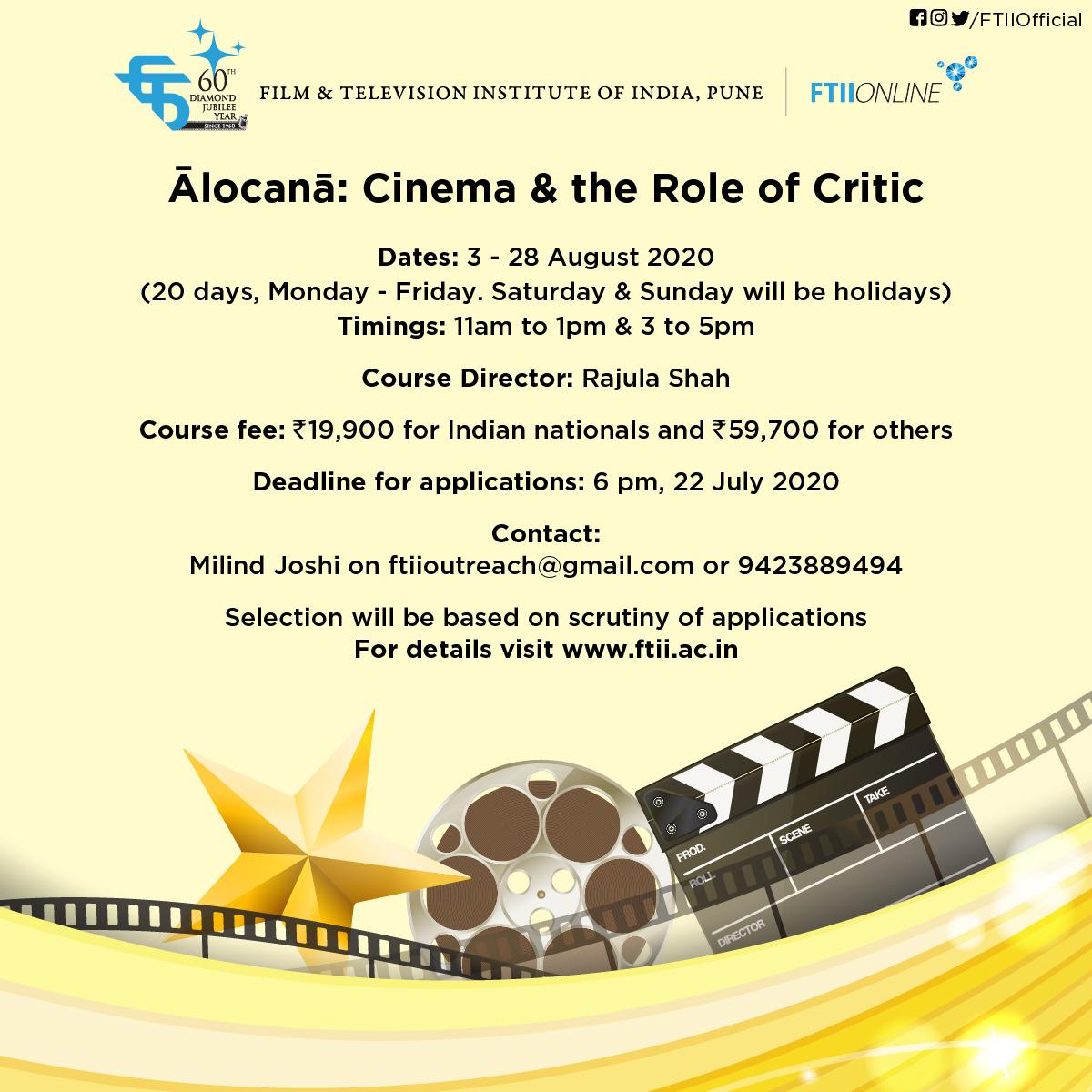 Online Course –Ālocanā: Cinema & the role of Criticfrom 3-28 August2020
Film and Television Institute of India (FTII), Pune announces Online Course - Ālocanā: Cinema & the role of Critic
Following are the details in this regard;
(1)
Name of the online course
: Ālocanā: Cinema & the role of Critic
(2)
Dates & Duration
: 3-28 August 2020 (20 days, Monday-Friday, Saturday and Sunday will be holidays)
(3)
Timing
– 11 am – 1 pm and 3 pm – 5 pm (4 hours every day)
(4)
No. of participants
:40 (Course may not be conducted if there are less than 32 participants)
(5)
Fees
: There will be two types of fees for the course viz.
A) Registration Fee: Rs 500/- per participant for participants from India. Fees for participants from foreign countries, OCI, PIO, Indians presently not staying in India Rs. 1,500/-
B) Course Fee: Rs 19,900/- per participant for participants from India. Fees for participants from foreign countries, OCI, PIO, Indians presently not staying in India Rs. 59,700/-
(6)
Last date of submission of applications
: 22nd July 2020
(7)
Age of the participant
: 18 years (participants born on or before 30th June 2002)
(8)
Education Criteria for the participant
: 10+2 level completed (12th standard passed)
(9)
Online Platform
: Google Classroom or similar platform
(10)
Medium of Instructions
: English
(11)
Course Director (Main Faculty)
:Rajula Shah is a Poet, Filmmaker & Visual Artist. She also writes on Cinema. After a Masters in Literature, she specialized in Film Direction from FTII. Her practice emerges through a close collaboration with people, their histories & environments.
She has been producing/ directing for over two decades and continues to explore boundaries of fiction/non-fiction through New Media. Among significant awards are the Horizonte Preis at Dokfest Munich Germany for Word within the word 2008; SIGNS jury award for Beyond the wheel 2005, John Abraham National Award for Best Experimental fiction for ReTold by Loknath in 2013 & for Jumbled Cans in 2014. Her latest film At Home Walking premiered at the 2019 Yamagata International film festival, Japan.
Her poetry collection in Hindi Parchhain ki Khirki se is awarded & published from Bharatiya Gyanpeeth for best New Writing in 2004. In 2018 she received the Krishna Baldev Vaid fellowship for writing. Among her translations, selected letters of Vincent Van Gogh- Mujh par Bharosa Rakhna & eminent social scientist Ela Bhatt's We are poor but so many are prominent. She's been on juries of various national and international film festivals. Developing new strategies of study in and around the practice of cinema in changing contexts is a serious concern with her.
(12)
How to apply
: Fill the Online Application Form made available on the website. An administrative fee of Rs.500/- (participants from India), in case of participants from foreign countries, OCI, PIO, Indians presently not staying in Application Fee of India Rs. 1,500/-should be transferred online on FTII Account through SBI Payment Portal at
https://www.onlinesbi.com/sbicollect/icollecthome
.htm A copy of receipt of payment shall be uploaded with the Application Form.
Any application which is incomplete with regards to information required, applicant's photograph or copy of payment will not be accepted.
(13)
Selection Criteria
: Participants will be selected on the basis of information and Expression of Interest (EOI) and Essays provided in Application Form.
(14)
Certificates
: All participants would be given participation e-certificates on successful completion of the course. Minimum 90% attendance is mandatory.
(15)
Queries
: For any queries please contact Mr. Milind Joshi, Advisor Outreach, FTII, on ftiioutreach@gmail.com
(16)Course Details
CONTEXT
The root of the word A-lochana means to look at something from all sides with a view to its evaluation; carefully considering it in all its possibilities, dimensions and depth before making a judgment. In the light of the nuanced meaning, Criticism & Creative Expression come closer than they are otherwise deemed. Criticism being a sensibility as creative as Filmmaking, the dialogue between the Art of its Maker and its reading of a Critic, is central to the course context. Strong Film cultures in History have been witness to analogous growth of Film criticism. A good critic's role is crucial to the making/unmaking of a living culture; is influential in directing viewers' attention to finer purpose of Art; in contributing to a climate of reflection or creation of a new viewership.
A Critic of lasting value is able to connect the vision of the filmmaker with the larger social, political, historical, poetic, philosophical context beyond a film. The co-existence of a creative mind (Filmmaker) & a critical mind (Film Critic) makes for a symbiotic, responsible ecosystem, marginal in a culture of paid reviews, publicity stunts, crass consumerism and propaganda. But how does one do justice to the job? How does one 'read' a film? What are the
tools available to a Critic?
OBJECTIVE
Having the freedom to say what one wants requires enormous discipline and craft of expression. A serious Film Critic's response feeds back into the film environment, making it stronger, more vibrant; eventually raising the bar for creators & audience alike. The need & scope for critical thinking & evaluation is expanding with the changing patterns of viewing, distribution and content creation. The emergent fields hold promise for critical thinking, with new challenges to creative minds, inspiring new voices to take stage. This course is invested in the emotional and intellectual development of young curious minds through a study of Cinema, seeking essentially to empower New Voices via a living bridge to the past.
COURSE OUTLINE
A layered study of the Story of Cinema, the youngest of Arts; an enriching journey unfolding through the history of human interface with Science, Technology and Art. A close study of its development through its stages of growth over 125 years into emerging contemporary cultures of creative expression and Transmedia.
1. Creative Energy: Birth of Cinema
Youngest Art; Technology; Inventions; Patents; World war
2. Directed Perception: Formative years
Educating the senses; New language; Colour & Sound; World politics
3. New vision: Coming of Age
Creative rebellion; Auteurs; Transcending barriers
4. Inter-being: Maturity
Cinema & other Arts; Collapsing borders; Digital; Trans-media
(17)Participant's technical requirements
(i) A Desktop / Laptop having minimum 8 GB RAM, 1.6 GHz or better processor (Intel i3 or i5 or better). (Windows / MAC)
(ii) Operating system: a) Windows 7 or 8 or 10. b) MAC OS Sierra or later
(iii) Audio – Video software: Latest versions of VLC player, Windows Media Player or Quick Time Player.
(iv) Compatible good quality headphones/ earphones with mic
(v) Compatible HD webcam
(vi) Fixed wired Internet connection with minimum speed of 10 Mbps, with approximate download limit of 6 GB per day. (Including three hours of online class and watching films as recommended by the course director.)
(vii) Web browser: latest version of Google Chrome (Preferred), Firefox, Internet Explorer, Safari.
Use of Mobile Phone/ iPad etc (in place of Laptop or Desktop Computer) to attend the classes is strictly prohibited. Such participants will not be allowed to join the classes.
*** Payment Procedure
2. Select All India in State of Corporate / Institution, then select Educational Institutions in Type of Corporate / Institution and click Go.
3. Search/Find FTII Fees Account in Educational institutions name and click submit.
4. Select Regn. Fee forAlochana: Cinema & the role of Critic in Select Payment Category.
5. Feel up the payment form with requisite details and proceed for payment.
*** A copy of receipt of payment shall be uploaded with the Application Form.