---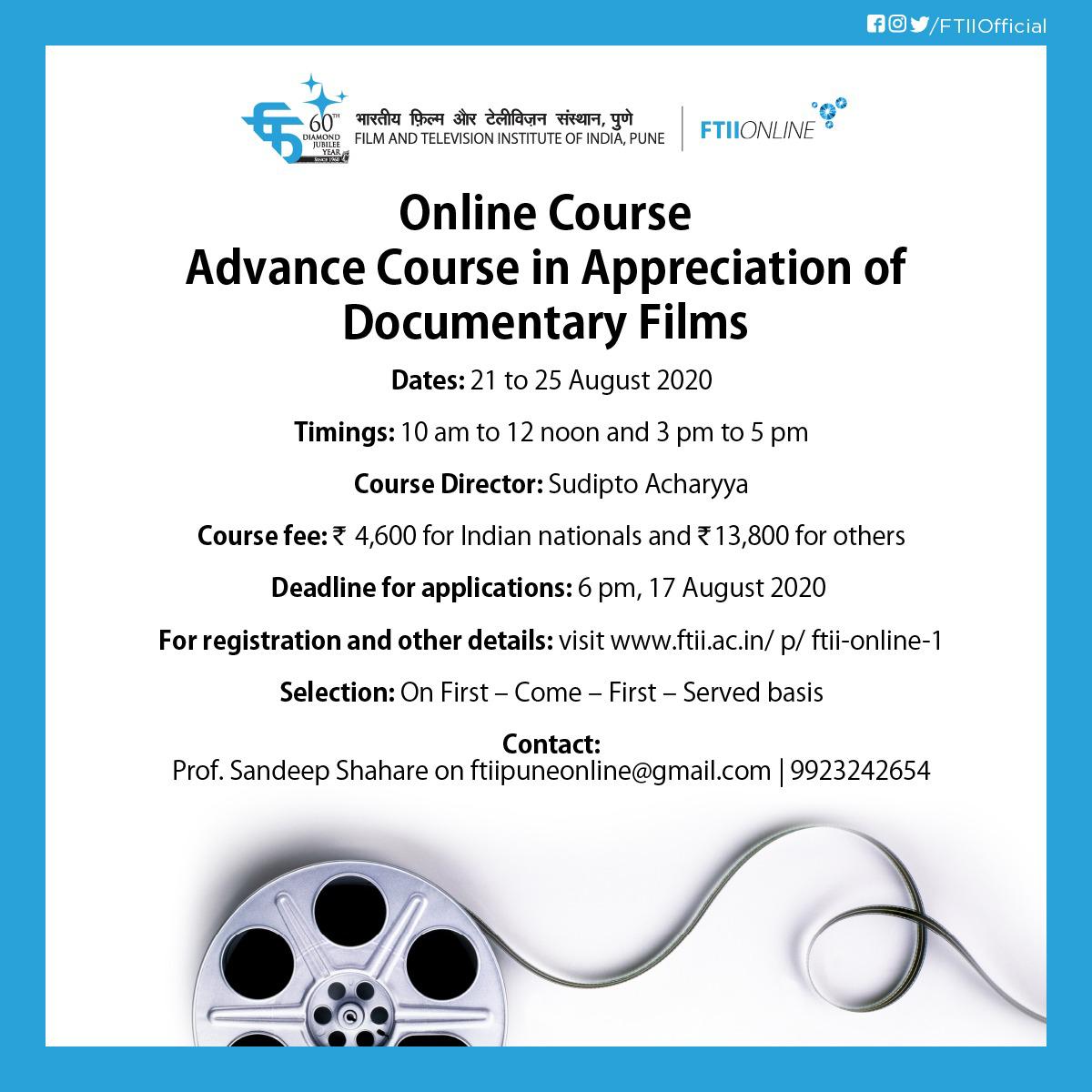 Advance Course in Appreciation of Documentary Films (Online) from21st to 25th Aug. 2020
Film and Television Institute of India (FTII), Pune, announces a five-day Short Course – Advance Course in Appreciation of Documentary Films (Online).
Following are the details in this regard;
(1)
Name of Course
:Advance Course in Appreciation of Documentary Films (Online)
(2)
Duration
: 05 days, 04 hours per day, total 20 hours
(3)
Dates
:21st to 25th Aug. 2020
(4)
Timings
:10 am to 12 noon and 3to5 pm (Indian Standard Time – IST)
(5)
Max. no. of participants
:50 (Course will be conducted only if min. strength of 40 participants is reached)
(6)
Age
:18 years &above as on 01stAug.2020 (participants born on or before 31st July 2002)
(7)
Educational Qualification
: HSC (12thstd. pass). In exceptional cases, 10th pass may be considered
(8)
This course will be particularly beneficial tothe people who
:
(a) Have already attended the 5 days Course on Appreciation of Documentary Films conducted by FTII.
(b) Have a minimum working experience of 02 years in active documentary production as a Director/ Writer/ Cameraman/ Editor/ Recordist/ Researcher/ Assistant or any other capacity.
(c) Have a proven interest in Indian Documentary history and practice.
(9)
Medium of Instructions
: English
(10)
Per Participant Course fee
:Rs 4,600/- for Indian Nationals and Rs 13,800/- for Foreigners including NRI, OCI etc. Course fee is inclusive of GST. Course fee of selected participants will be non-refundable, non-transferrable, non-adjustable, etc. under any circumstances. Course fee of all the non – selected participants will be returned within 07 – 10 days of the course commencement.
(11)
Mode of payment
: Online through SBI Collect (along with application form).
(12)
Due date & time to submit application
:17th August 2020, 6 pm IST. Application submitted after due date & time will not be considered.
(13)
Selection Criteria
: On First – Come – First – Served Basis.List of selected participants will be published on FTII website. Also, selection emails will be sent to all the selected participants.
(14)
Online platform
: FTII will be using "Google Classroom" and participants are requested to get familiarized with the same. Steps to join online class including login id & password will be shared with each selected participant in the selection email.
(15)
Computer literacy
: It is the participant's responsibility to be technologically capable to take an online course. Participants must be computer literate.
(16)
MANDATORY REQUIREMENT
:
Since the course is online, participants must have following facilities;
(i) A Desktop / Laptop having minimum 8 GB RAM, 1.6 GHz or better processor (Intel i3 or i5 or better). (Windows / MAC)
(i) Operating system: a) Windows 7 or 8 or 10. b) MAC OS Sierra or later
(iii) Audio – Video software: Latest versions of VLC player, Windows Media Player or Quick Time Player.
(iv) Compatible good quality headphones/ earphones with mic
(v) Compatible HD webcam
(vi) Internet pack of minimum 5 GB per day exclusively for this course. It is recommended to have fixed wired Internet connection with minimum speed of 10 Mbps or more.
(vii) Web browser: Latest version of Google Chrome (Preferred), Firefox, Internet Explorer, Safari.
Use of Mobile Phone (in place of Laptop or Desktop Computer) to attend the classes is strictly prohibited. Such participants will not be allowed to join the classes.
(17)
Course Director
: Mr. Sudipto Acharyya
Sudipto Acharyyahas studied cinema at FTII Pune, with specialization in Direction and Screenplay Writing(1997 – 2000). He has completed his MA in Film Studies from Jadavpur University, Kolkata.
His Diploma film HARBOUR LINE was part of NO MASALA TOURING FILM FESTIVAL in Germany. It was exhibited at the Asia-Europe Short Film Festival-2007, Washington DC, organised by Indian Embassy.
His first independent production is Weekend Chill, a digital film made with crowd fund. He has directed several short films & one feature length film for television and other institutions.
Sudipto has a long engagement with teaching Cinema in various institutions like Film and Television Institute of India-Pune, Satyajit Ray Film & Television Institute – Kolkata, Roop Kala Kendro(Kolkata), Kolkata Film & Television Institute and Centre for Film & Television(Allahabad University). He is currently a Senior Faculty at Whistling Woods International –Mumbai.
His recent academic papers on cinema were invited to conferences at film schools like Lithuania Music and Theatre Academy – Vilnius, Dodge College of Film and Media Arts –Chapman University, Witwatersrand University-Johannesburg and Bilgi University – Istanbul.
He is part of an Artistic Research project involving BRICS nation that looks at social interstices with the help of cinematic practices
2. Read the "Terms Used", then tick/ click on the 'check box' and further click on "Proceed"
3. Select All India in State of Corporate / Institution, then select Educational Institutions in Type of Corporate/ Institution and click Go.
4. Search/Find FTII Fees Account in Educational institutions name and click submit.
5. In the payment category select "Advance Course in Appreciation of Documentary Films".
6. Fill-up the application form with requisite details and proceed for payment.
7. Make necessary payment of Rs 4,600/- OR Rs 13,800/- as the case may be.
8. Once payment is done, please note "SBcollect Reference Number" (mentioned in payment confirmation receipt). This may be required for future reference.
9. If possible, digitally store the receipt of payment. This can be carried out in one of the following ways;
(i) by taking printout of receipt of payment, scan & save it
(ii) by taking screenshot of payment (if using mobile) or printscreen (if using computer)
(iii) by simply taking a photograph from mobile
10. No document/ certificate related to educational qualification, age etc. is to be attached.Participants' self – declaration in the application form is sufficient.
11. Terms & conditions: By agreeing to the terms & conditions in the application form, participants are confirming that they have read & understood the website advt. They are eligible to apply and fulfil all the requirements as stated in the advt. Further, participants agree that decision of FTII Director regarding admission to the course and its conduction will be final.
(19)
Communication with participants
: All communications with the participants will be carried out through email only. List of shortlisted participants may be published on FTII website and selection email will be sent to the selected participants on their registered email id.
(20)
Certificates
: All participants would be given participation e-certificates on successful completion of the course. Minimum 90% attendance is mandatory.
(21)
Queries
: For any queries please contact Prof. Sandeep Shahare on ftiipuneonline@gmail.com OR on 9923242654
Course Details
Indian Documentary Film Through The Ages: An Appreciation
•
Newsreel as documentary during the Raj and it's role in chronicling the various events of WW, Partition, Police Repression and other significant markers of national life.
•
Films Division and it's pedagogical charge in post Independent India. Strains of individual voices from within the State through the foundational works of S. Sukhdev, S.N.S.Sastry and others.
•
Counter Narratives: The political in the documentary that reveals us critically and examines the fault lines.
•
Women and Documentary: From the early practitioners to contemporary how personal has become political.
•
Documenting Ethnography and ethnomusicology of India.